One-factor, two-factor, red-factor, blue-factor.
---
When voting it is reasonable to worry about the security of someone's vote. How can we ensure that not just anyone uses a voter's access key from an email, postcard, or text message?
Thankfully there is a way to ensure that other voters do not use someone else's access key to cast a vote! A way to create even tighter security around someone's access key is to enable two-factor authentication; however, what is two-factor authentication?
Two-factor authentication requires that a person goes through two verification processes to access the application, the purchase, etc.. For example, when you unlock an iPhone device it still requires a password before purchasing from the app store. For more information check out this article: Two-Factor Authentication (2FA).
Two-Factor Authenication in ElectionBuddy
In ElectionBuddy two-factor authentication is a security process that requires the voters to verify who they are before accessing the ballot. Two-factor authentication allows the admin to ask the voter to enter information that only the voter would have access to. For example, if they have an ID number in an organization, they could use the ID number that is specific to that voter. This can be used as the password since, presumably, only that voter would know their ID number.
Another method of two-factor authentication is to use the SMS number as a way of ensuring the correct person is accessing the ballot. How this works is once the ballot is access the voter is sent a code to their mobile device. Once they receive the code they can enter it into ElectionBuddy to access their ballot.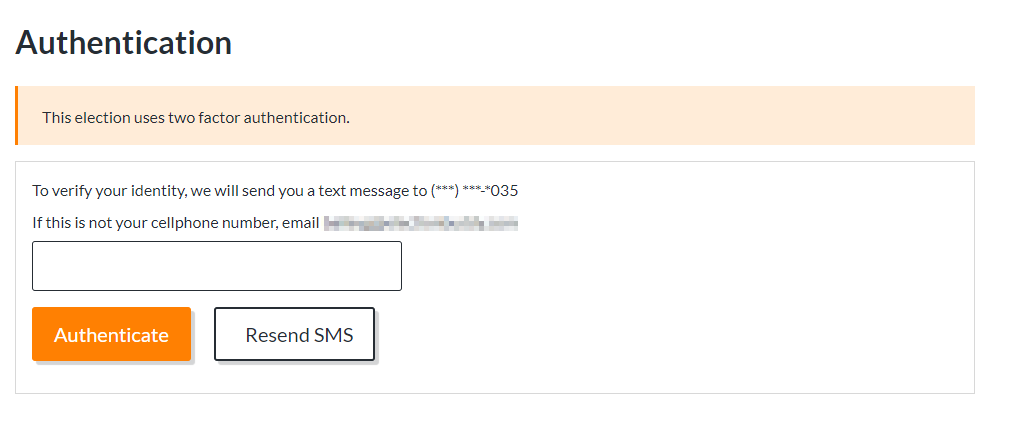 Including two-factor authentication allows for there to be greater security surrounding each voter's vote. Security of a voter's vote is important because it ensures who accesses the ballot is the intended voter/ This is specifically handy in combating email forwarding where someone else was able to gain access to the ballot through an unintended forwarded email. Or, even a postcard that was delivered to a non-updated address on file.
For more information on two-factor authentication check out our help article! If you have any questions regarding using this feature, please feel free to reach out to us at support@electionbuddy.com.
What new technology does is create new opportunities to do a job that customers want done. — Tim O'Reilly
---
A QR (Quick Response) code is a two-dimensional barcode that can hold a lot more information when compared to your standard barcode. It was first created in 1994 by the automotive industry in Japan. This code is read by a cell phone and then directs the user to the website, information, etc., that is associated with the QR code.
Some common places you might see QR Codes are:
On bottled beverages. When I mention this I am specifically thinking of the "Share a Coke and a Song" campaign.
Television Ads — check out this one from LG.
On billboards.
In shop windows. You might have seen something like this during your last trip through a shopping mall.
Friend codes on online apps. QR codes recently have been a quick and easy way to add friends on phone apps; for example, Snapchat.
During the recent Covid-19 pandemic, we have seen a great rise on resturant menu's being available via a QR code on your dining table.
ElectionBuddy and QR Codes
ElectionBuddy even makes use of the technology that is the QR code! When using postal notices or printed notices you have the option to use the QR code that will be associated with your voter's unique ballot link. This is a quick way for your voters to reach the ballot without having to type in their ballot link or their access key. QR codes are an easy and accessible way for voters to access the ballot if they have a smartphone.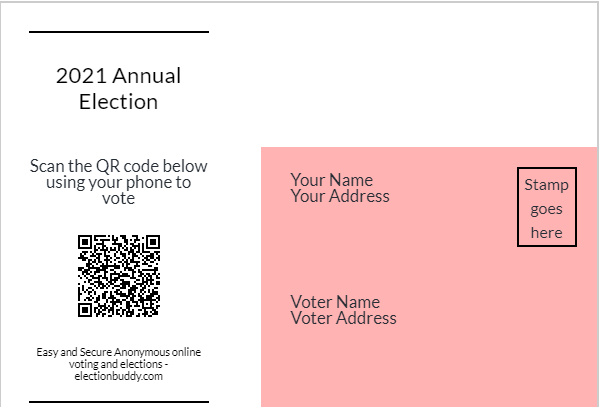 The process to access the ballot via a QR code is as follows:
Voter receives their postcard with the unique QR code notifying them of the vote.
The voter takes out their smartphone and scans the QR code.
The QR code takes the voter to their ballot and they can cast their vote.
Technology as simple as the QR code can help to enhance the voting experience for voters and add simplicity to accessing the ballot. If you have any questions about using this feature, please don't hesitate to reach out to us at support@electionbuddy.com!
Because of the crazy times we are living in (thanks, COVID-19), the entire ElectionBuddy team is now working remotely! This means we are still hard at work to ensure that there is zen in your elections. We also get to benefit from some cuddly new team members! Meet Jasper, our election observer (along with a few other, less cute-and-cuddly team members).
With all jokes aside, we hope you stay safe!
Tips and Tricks for Working Remotely
With this change in our lives, it seemed likely that if our team is now working remotely, a lot of our administrators might be too! So, we've compiled some of our best tips and tricks for working remotely!
If you have a webcam with a microphone that picks up noise and makes it hard for other to hear you, get yourself a headset with a microphone instead for your online conversations.
If you can, create a seperate workspace at home, instead of sitting on the couch with your laptop. This will help you delineate when it is time to work and when it is time to relax.
Get dressed! I'm not saying you have to put on your best outfit but the act of dressing will help your brain register that it is time to work. Don't skip your usual morning routine.
If you're going to be away from your computer, make sure you let your coworkers know. Since you're not in the office and can't see what each other is up to at all times you might not realize that your coworker is off eating lunch unless they tell you.
Pets are wonderful creatures and it may be exciting to have them around when you are working from home, but they can be distracting. If your furbaby won't let you get anything done, try doing your work in a room with a door that closes so you can squester yourself away from their unconditional love and attention. With that said, being able to sit down and destress with your cat/dog during your lunch break is a huge bonus!
Creating a good remote environment for yourself is the key to success! Everyone works and thinks differently so make sure your remote environment is set up in the best way to help benefit you.
For some more tips and tricks check out some of the below articles:
"Working Remotely: Tips from 100+ Remote Workers & Leaders" from HelpScout.
"13 Tips and Tricks for Working Remotely and Loving It" from skillcrush.
Working From Home Tips From Our Experienced Remote Employees" from Stack Overflow.
And as always, if you need any help setting up your elections you can reach us at support@electionbuddy.com!
Congratulations! It's a … tie?
---
How To Perform a Runoff Election With ElectionBuddy
Your election has ended. Anticipation rises as you go to view the results. Like a kid on Christmas morning, you run to your computer, log into your ElectionBuddy account, click on your election's name, and … your eyes widen in dread. There is a tie for the winner.
The democratic way to decide a winner when you end up with a tie is to do a runoff election. A runoff election is when a secondary election is held with only the tied candidates and questions on the ballot.
Don't panic. ElectionBuddy is well-equipped to help you with your runoff election. Although you didn't plan on having to take this extra step, ElectionBuddy makes running a runoff easy for you; simply duplicate the election, edit the ballot, and send it out!
Why Is It Important to Do a Runoff?
Regardless of whether you feel like runoff elections are a real-life nightmare, they are important to the election process. This is because it ensures that the person elected is the one you organization members would truly prefer.
Your organization most likely has some rules in place regarding runoff elections so be sure to check those before starting your runoff. By putting the tied opponents in an election against each other, it allows your members to choose the candidate that they prefer out of the tied candidates.
How to Make Your Runoff Successful
Essentially, all your runoff election needs to do is list the members who are in a tie. You can do this by editing your ballot and removing the questions and candidates that were not part of the tie — super simple!
Other things that help increase the turnout for your runoff include:
Changing the title of your election so it indicates a runoff; ex., "Board Election 2020," turns into "Runoff Board Election 2020."
Updating the subject line of your notices to indicate the election is a runoff.
Updating your notice to state that this new election is taking place due to a tie that happened in the previous election.
If you release the results of your election, including the tie, let your members know to expect a runoff to be occuring shortly for the position or question that resulted in the tie.
What Happens If Your Runoff Ends in a Tie, Too?
My suggestion for you is to flip a coin and hope. Just kidding, you might not want to leave the declaration of the winner to flipping a coin (unless maybe if you are in P.E.I). Depending on your organization, you might have to keep positioning your candidates and options against each other until one is elected the winner. However, your organization might have some rules in place in the event of a tie and then another tie, so please be sure to reference your organization's bylaws before going forward with another runoff.
Those are all the tips and tricks I have for you! If you have any questions about this process, please contact us at support@electionbuddy.com, or check out our help article on the runoff process as well.
Whether it is an embarrassing email address created in your youth or a straightforward work email address, it is important that it is inputted correctly in your voter list!
The Importance of Having Correct Email Addresses
Electionbuddy offers numerous methods of contacting voters about upcoming elections. An important method of communication is through email notices. Email addresses have become a popular form of communication as the years go by; in fact, more than half the planet is estimated to be using email — and that number keeps growing! Reaching voters through their email address allows them to simply follow a link and vote in you election. However, to reach the intended voters, it is important to make sure your voter list has the correct information.
Validity and Correctness
Be wary of typos — if you're trying to contact Tom at tom@fakeaddress.com, and you accidentally put tim@fakeaddress.com, the email will still look correct. But, it will lead to Tom not receiving his email to vote, and (if the typo-ed email address happens to be a real email address that belongs to someone else) could even allow Tim, who is totally unrelated to your organization, an unauthorized chance to vote! ElectionBuddy goes through the voter list and ensures that all the emails inserted are valid email addresses but it cannot make sure that they are correct email addresses. In fact, checking for the validity of an email address is highly unlikely to catch an incorrect email address.
In the cases where the wrong email address has been put in and the voter cares about voting, they may send an email to the administrator of the election asking why they did not receive a notice to vote. This could be as simple as ensuring that the voter who emailed is actually on the voter list and has had the wrong email listed. But, this problem can also be difficult to solve. You can learn more about these problems in the following section.
If you ended up with a typo that belonged to a real email address (but just doesn't belong to your intended voter), and the person who received the email incorrectly read it and voted, you can spoil the ballot and re-add the intended voter with the correct email address.
However, if no one has voted with the incorrect email address, ElectionBuddy makes fixing this easy by allowing you to edit the voter's email address. This edit will lead to a new email being sent to the voter and them being able to vote; however, this situation shows how frustrating it can be when the voter list contains incorrect data.
The Voter Still Didn't Get Their Email Notice?
This brings us to a more exasperating issue as to why voters do not receive their email notices: when ElectionBuddy's emails become marked as spam by your voters' email programs. There are various reasons why emails might be marked as spam and to fight this see our help article on undelivered email notices and our blog post on spam email!
Whether it's the food kind or the email kind, no one likes spam. Here are some of the most common causes of accidental spam emails.
Why Do Emails Get Marked as Spam?
When sending email notices to voters it's discouraging to receive the undeliverable status meaning the voter never received their notice to vote! Currently ElectionBuddy has a bounce back rate of 1.56% for the last ninety days! This bounce back rate indicates that while it is rare email addresses can receive this undeliverable status. This undeliverable status occurs because of their email servers spam filter settings! Before going into the many nuances of trying to get an email to send without triggering a spam filter it is important to know what spam actually is!

Spam is a term used to define a message that is unwanted or unsolicited. Spam goes back to the days of manual mail sending when people would receive physical chain letters.When an email server receives an email it determines whether the email could be unwanted based on the technical aspects of email sending and the contents of an email. The contents of the email being the one aspect of email sending that we have control over. "What is spam?" you might ask … essentially, spam occurs when the spam filter determines that an email is up to no good and it sends it to the spam folder. There are many aspects that could trigger an email to be marked as spam which the email sender can try and act against!
Do You Have Permission to Send That Email?
It's important when sending an email to have permission to send that email. It is the job of the administrators of the elections to make sure everyone on their voter list consents to being sent an email notification pertaining to the election. If the administrator does not have permission to use their voter's email address it can have site-wide impacts for you and other users. This is because if a voter receives an email they did not consent to it makes ElectionBuddy seems like a spam sending address. This leads to ElectionBuddy's email sending reputation to drop making it harder to send emails to vote in the future for all users.
They Flagged Us as Spam
Sometimes voters make a mistake and do not realize the email they are receiving is actually an invite to vote in their organization's election, so they mark the email as spam. To avoid this, it is important to let your voters know that there will be a notice to vote to come to them and inform them of what the sending email looks like. This allows voters to be on the lookout for the name ElectionBuddy and to not write off their voting notice as spam. Once we have been marked as spam it makes it harder for us at ElectionBuddy to send emails to people who share a domain! After being marked as spam the domain begins to think that ElectionBuddy is a spam sending email address. This makes the deliverability of our email notices plummet and cause you to reach fewer voters.
Keywords
The words chosen are important when writing an email to someone; after all, keywords are meant to catch the reader's attention! But the wrong word choice could send your email straight into someone's spam folder. It's estimated that out of all emails sent everyday about 45% of it is spam related. Based on the large number email spam that is sent each day it only makes sense for email addresses server to try and filter through the received emails and try to work their magic to determine which emails include spam related content. Some of the most notorious keywords that trigger spam filters are:
Free
Apply now
Obligation
Make $
Prices
Leave
Remove
And the list goes on and on and on … It's surprising what words can potentially trigger spam filters! But the long variety-filled list makes sense when taking into account that catching spam email is tough! I myself received a spam email just the other day, even with spam filters in affect. Spam filters do their best at trying to catch spam emails but they are not an exact science, which is why emails that are not spam sometimes get caught in spam filters and never make it to the intended voter.
Low Mailbox Usage
An email inbox that has been inactive for awhile can lead to an email becoming marked as spam! The server does marks emails sent to this inbox as spam because the server does not expect to receive any new emails based on the long period of inactivity. This issue highlights the importance of keeping your voter list recent and making sure that the emails on the list are up to date. After all, using current emails leads to a better chance of reaching all your voters and thus a better voter turnout for your election! When everyone receives their email there is a much better chance of everyone having their voices heard!
Overall
Having the emails sent out in an election bounce back can be frustrating, but receiving emails as a voter that are unwanted isn't ideal either. It's important to pay attention to the emails sent to voters and make sure that the size and words of the email don't accidentally lead to the triggering of a spam filter. It is also always important to make sure the email addresses provided are up to date because that leads to a better chance of reaching all of the intended voters!
Based upon feedback from quite a few election administrators, we have introduced a new piece of functionality. It is meant to help an organization analyze their voter list based on voting statuses. This information is now available in a download!
Voter List Filters
Previously, if an election administrator wanted to take a look at their population of voters who haven't voted, they would have to do this directly in ElectionBuddy by using the filters on their voter list. The filters sit above the voter list in your running election. Using the filters is simple: simply click and wait for the page to refresh. The time this takes depends on the size of your voter list, but should not take more than a few seconds.
While the filters are helpful for visualizing different aspects of your list in ElectionBuddy, there was no way to pull this data out from ElectionBuddy and view it in Excel, for example, to do an analysis on it. So, by popular request, we have introduced the ability to:
Visualize different groups of your voters in the voter list by using the filters to sort your voters, and then,
Download a list of whatever voter subset you have filtered out in ElectionBuddy.
How to Download Your Voter List
To download, simply select the "Status" and "Type" filters that give you your ideal report. Then, click on our new "Download" button.

The red box is highlighting some of the various filters available for a voter list. The actual content of your filters will vary based on the notice types you are using ("Type"). It will also vary based on the different statuses your voters have in the voter list ("Status").
You can use the two types of filters in tandem! Say, if you wanted to look specifically at your voters who received an email notice but have not voted. Or, you can search using one of the filters specifically, and then leaving the other on "All". For example, if you wanted to see all your "Voted" voters, regardless of what notice type they were sent.
So, Why Download?
Unsure of why you would want to download a subset of your voter list? How can you use this information to help your organization/the election? Here are a few of the most common reasons why administrators told us they wanted to see this functionality:
Voter turnout strategies: a lot of our large organizations have groups of individuals within the organization that come together with the election administrator to strategize how to reach out to more of their voters, and wanted to be able to have a list of voters who haven't voted to analyze and sort in Excel. (For some ideas on how to increase voter turnout, check out this article for research-backed strategies!)
Administrative purposes for the organization: filtering by "Undeliverable" voter notices helps an organization identify members whose contact information is out-of-date with the organization. They can then reach out to that voter to ask for updated contact information. Asking your voter to vote at this time can also help you turn this into a voter turnout strategy!
We work with any and all types of organizations that run elections. But, one type of organization in particular has very strict government-imposed legislation around their elections. Those would be the unions. The government department that regulates their legislation (in the United States) is the Department of Labour. We surpass the DOL's strict election integrity expectations with our vote verification ability via the "Vote Audit" report and the verification code.
While this most directly benefits unions who need to answer to the DOL, this is something that all organizations can get behind! Your election may not necessarily need to align with the rigorous legislature of the DOL, but you can feel good about the fact that it does anyway. In a democratic institution, observability and transparency around the voting process is always a benefit to you and your voters.
The Redesigned "Vote Audit" Report and the Verification Code
Previously, election administrators used the "Vote Audit" report. Voters could never see it; the voters have only ever been able to view the "Results" and the "Graphed Results" reports. This is now no longer the case.
The "Vote Audit" has been redesigned to be somewhat useless for administrators, and instead is now extremely useful for voters. Also, voters can now view this report while viewing the results.
What has changed?
As mentioned, the "Vote Audit" report contained information about the IP/time stamp for each voter's ballot submission. Instead of listing the voter's ballot ID and the Voter ID (a sequential number that we internally assign to each voter after they vote), the "Vote Audit" now lists something called a "Verification Code" instead:
As an election administrator, you will find this page to be unhelpful, as you do not get to know the verification codes for your voters. But, each voter will know their own verification code.
The "Voters" report now contains the information about a voter's IP and time stamp. You will need to download the report and open it in Excel to view this information. To download the report, open the "Voters" tab and click the "Download" button.
What is a verification code?
A verification code is a fifteen-character hash. The combination of a voters' choices on the ballot and their Voter ID makes up the hash.
A hash: the result of a hash algorithm that maps input data to another value.
To put it simply, the hash algorithm takes the input of the voter's ballot choices and Voter ID. Then, it translates that information into a series of numbers and letters, like the example in the picture above.
A good hash algorithm, like the one we use, does two other important things:
It is impossible to work backwards. This means that the algorithm we use to calculate the hashes doesn't have to be a secret. You cannot turn a verification code back into the information about the voter's ballot choices and Voter ID.
There is an extremely low chance of two voters ever being assigned the same verification code (known as collision). This would only be problematic if two voters in the same election were assigned the same verification code. The probability of it occurring with the algorithm we use is less than 1/1 000 000 000.
The verification code is dynamic. Each time someone views the "Vote Audit" page, ElectionBuddy recalculates the code. This means that the verification code, as it sits in the "Vote Audit", is the most current record. The hash will never change if a voter's voting choices haven't changed. So, if you're playing by the rules, a voter should always be able to find their verification code in the report.
When does the voter receive their verification code?
Verification codes are provided to voters on the "Confirmation" screen when they have finished submitting their ballot. Voters can also receive a confirmation email containing their code after they vote.
Run a transparent, observable election with ElectionBuddy
Any election can be set up to allow for a voter to verify their own votes. Check out our support article on how to build one, and surpass legislative expectations like a pro!
Bylaws are a fundamental part of the operating process for any organization. They tell an organization what they should and should not do, and guide the people running the organization when things are unclear or uncertain. But, your organization changes, and that means your bylaws may need a change as well. A bylaw amendment is how an organization changes their bylaws. And, your bylaws often contain details on how to make the amendments!
Step 1: Review your bylaws to find guidance on how to run a bylaw amendment.
The first thing to do when looking to amend a bylaw is to get a clear picture of what you need to do to pass the amendment. Turn to your bylaws! They will contain all of that important information. For example, you'll need the complete text of the bylaw you're trying to amend, so you have to start there! Additionally, things like knowing how many votes are required to pass your bylaw (this is called a quorum) are important.
Step 2: Get legal help!
The language used in bylaws is extremely legal and technical. Attorneys can assist you with understanding the language you're trying to amend. Additionally, they can help with coming up with new language for the bylaw. They can also make sure that the changes you're proposing aren't going to violate any provincial/state/federal laws. By consulting a third party, you are protecting yourself and your organization if something goes wrong.
Step 3: Pass your bylaw amendment.
So, you've done all that work to draft your bylaw amendment, and have it approved by a legal third party. But, the battle has only just started. Passing the amendment with enough numbers to satisfy your organization's quorum will be the real challenge.
Now, this is where we come in. ElectionBuddy can help you pass your bylaw amendment!
The first step to getting your bylaw amendment passed is to distribute it to your membership. They need to be able to read the amendment in order to vote on it. With our new rich text editor on the ballot, you can present your bylaw amendment cleanly and accurately to your voters.
Both of these examples clearly display the amended text to the bylaw, ensuring that your voters have no confusion on what the old bylaw text was, and what the new text that they're voting on says.
Create beautiful ballots that your voters can read.
Try ElectionBuddy's rich text editor for your bylaw amendments, and all other types of votes, today!
The results are in…and they state that the majority of ElectionBuddy users don't know how to properly run an Approval vote.
After noticing some users who were using the Approval voting method incorrectly, we wanted to look at the total number of Approval elections being run on our site. So, we complied our internal data for 324 elections using the voting method. We then analyzed those elections. Unfortunately, the results are not good. We found that almost 65% of our users who were using an Approval voting method were using it incorrectly.  That's alarmingly high.
Why is this?
Well, the most common misuse of the Approval vote we saw was the use of it in a "Yes/No" scenario. The concept of "approving" a single item, such as one candidate or one bylaw amendment, can be very misleading. When approving a single item, you cannot use an Approval voting method.
"So, what is an Approval voting method? When do we use it?"
The Approval voting method is a single-winner electoral system. When voting, the voter chooses any options that they approve of. The option most collectively approved of wins.
To illustrate what that means, take a look at the sample ballot on the left.
If you had received this ballot to vote on, you would select any of the candidates that you approve of for the position of vice-president. The candidate most approved-of wins. To reiterate, a voter can select and vote for all of the listed candidates.
When the Approval Voting Method Goes Wrong
As mentioned earlier, the most common misuse of the voting method was in "Yes/No" situations. Based on the above information, it is clear that the voting method does not work on a "Yes/No".
Here is another sample ballot on the right. This exemplifies why an approval voting method is not the same thing as, for example, approving a bylaw amendment.
If this was set up with the correct voting method (what we call a Referendum), you would not be able to select both "Yes" and "No" and submit your ballot. Our error-checker stops you when you attempt to verify. But, with the approval voting method, a voter can choose both.
You can bet your bottom dollar that this voter will be able to submit this ballot successfully, too. This ballot submission makes no sense. If you were to have voters submit ballots like this, your results would be nonsensical as well.
Don't compromise your results — use the Approval voting method properly.
This voting method is a great voting method when used correctly: it's simple, quick, and is an excellent alternative to a Plurality vote (because a voter can choose all the candidates they would be okay with seeing elected into the position, as opposed to just one). But, like any improper tool for the job, it's useless in the wrong situations.
When deciding on a voting method, it is important to ask yourself if the behaviour makes sense for what you're trying to accomplish. Always make sure you have your critical-thinking hat on. But, if you are ever unsure or want a second opinion, just shoot us an email at support@electionbuddy.com — we are always here to help!
So a big election just wrapped up in the United States and it was a close race with many subplots to it that made it one of the more interesting elections in years. Whether you are motivated by real world politicos or just want something for your resume when you graduate university or college, running for student office is a rewarding experience.
And for easy and cost-effective online elections, check out our website.
These quick tips should help you get started on your road to victory:
Use your networks of friends and acquaintances. Announce your intention to run for "office" to your friends and close acquaintances first. It's good practice for you and a chance to start building your base of supporters.
Use organizations that you know and that know you. An important part of campaigning is to motive those who know you best so make it a priority to attend clubs and meetings you were a part of before you started running for election.
Create opportunities to speak at events. Go to meetings, social events, cultural events, etc. that you might not normally attend. Have organizers and leaders introduce you to as many people as they can.
Attend every all candidate's forum/debate. It is a chance to speak to motivated students. If they attend a meeting they are likely to vote.
Secure Free Publicity. In any campaign, the power of the press can persuade and help draw voters; first, if your school has a campus newspaper, radio station or TV station, inquire about getting covered in the campus media. Then, branch out — and think big.
Tips for what doesn't work:
Don't be overly complex/overly simplistic. Sometimes less is more. That's called being concise and coherent.
Don't use empty rhetoric. Be your own person and say things in your own way.
Don't have a campaign that is unfocused, confusing, or cliquish. You can't be for or against everything. Pick and stick.
Are you a candidate in an upcoming election? Let us know your success stories, best practices or lessons learned via support@electionbuddy.com. Best wishes in winning your school elections!
Being someone who loves numbers and statistics (mainly sports statistics, but still…), I find it's great you can come up with some interesting patterns and analysis with the raw data we give you in your Election Admin area. If you click on the Vote by Vote tab, you will be presented with an untraceable ballot number as well as what candidates were cast from that ballot.
You might see a trend that if someone voted for Candidate Y for board president, they were more likely to vote for Candidate A for treasurer. There are all sorts of ways you can compile this data and come up with some unique analysis.
Give it a try in your next election!
It's almost 2012. Nearly everyone has a smart phone, so why not show how hip and tech savvy you are by marketing using these devices?
Check out this video from M4 Group Marketing for some cool mobile marketing tips, directed at nominees running in an election. While the message is good, they could have done more than just the Powerpoint style thing they have got going on.
A homeowners association is a corporation formed by a real estate developer for the purpose of marketing, managing, and selling of homes and lots in a residential subdivision.. In almost all states in the USA, they are are non-profit corporations, with their members being shareholders. Like most associations, they need elections… this is where ElectionBuddy comes in ; ). Whether that be electing new officers, or passing motions that are outlined in the by-laws, ElectionBuddy could be the perfect solution for Homeowner Associations.
Homeowners Associations are becoming increasingly more popular in the USA. In fact, common-interest developments (CIDs) are the fastest growing form in of housing in the USA (source), so the need of governing bodies are needed now more than ever.
HOA Elections
As per by-laws, elections are usually held annually, where budget, positions, projects and changes to rules are call considered for review. Many states require a specific time of notifying homeowners beforehand, so they have time to familiarize them selves with all of the candidates and issues.
Similarly to Condominium Board elections, votes may be weighted in terms of the size of property or the percentage of the whole that an individual owns. Like many corporations, members may assign their right to vote, or "proxy," to another member who will be present at the election. A quorum,often 51 percent or two-thirds of the total membership is necessary to conduct an election.
How Online Elections Can Help HOAs
When it comes to elections, members are going to want a quick and painless way of voting. A HOA member can setup an ElectionBuddy election within a matter of minutes, and distribute a unique voting link to each eligible voter. Very little setup time is required on the organizer's behalf and voters can vote right from their Email inbox!
Confidentiality is key to any successful election, by using a piece of online election software, it reduces the chance of voter fraud. with ElectionBuddy, we use a 256-bit encryption, which is the same security your bank will use to keep your data safe in transit. Ballots are also sent by email, ensuring the voter is the only person with access to their vote.
Candidate biographies, are a major benefit of using online elections. Voters get a chance to do first-time, or last minute research on the candidate. With each description being the same length in characters, the vote is getting a fair and accurate description of each candidate.
It all comes back to having a direct line of communication. Using online elections, is not only a demonstration of modernity, but it's a sign that the an association cares about making the voting process easy for the tenants.
What's the election process for your Homeowners Association? Feel free to share your experience with us on support@electionbuddy.com.