In the last year we've been a part of over 40,000 votes and helped almost 6 million voters make their voice heard. With all of that democratic activity, we've expanded and grown to help as many customers as we can. So we asked ourselves the question, was our brand matching up? The answer involved taking a hard look at what makes us who we are, and why do organizations keep choosing us to make important decisions.
Why the change?
It's true, we facilitate online, remote, and in-person voting for many organizations across varied industries, but what we make is more than just software and services. We strive for "peace of mind". We increase "member engagement". We make "voices heard". All that adds up to the smile we are determined to put on the faces of everyone who uses the ElectionBuddy system, interacts with our experts, and benefits from our services. It's more than a check in a box, it's an emotional journey for administrators, voters and everyone involved in the process. That's why organizations tell us that they keep choosing us: they feel better and happier, secure in the knowledge that their votes are worry free.
We also want our brand to communicate outwardly what we as a team feel every day. Our motivation that drives us to make improvements in our app, hire exceptional people, and listen carefully to our customers. It's that smile. It always has been and it always will be. It's also why I end most of my emails with "Happy ________day" 🙂
Meet "Buddy"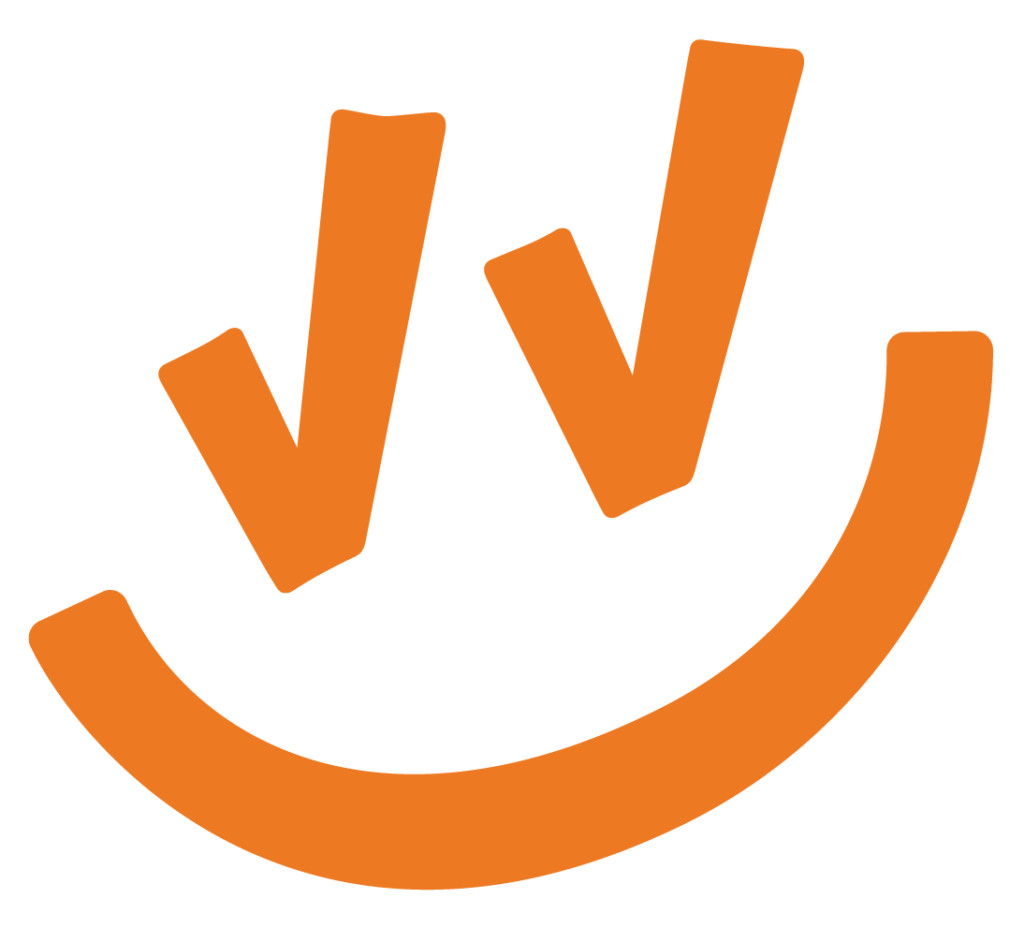 Our name was always friendly. However, "Buddy" means more than just someone you happen to know. Your buddy is there when you move a couch, when you have to take your dog to the vet, or when you just need someone to listen. A buddy is there to pick you up and make you smile.
To us, the democratic process is so much more than an exchange of ideas to make your world, your community or your organization better. It's an emotional connection that brings groups of people together for the common good. "Buddy" is the flag bearer of those ideals. He walks out in front of us as a reminder to everyone of what we're about. He keeps us humble whenever we make decisions, and his smiling face amplifies our commitment to you. We will never stop working to make you smile.
How does it affect you?
This change is us doubling-down on what makes us different. It's a reminder that we're people helping people make important decisions. We're hoping our renewed commitment will show through not just in our new icon and fonts, but in everything we do. Every time you communicate with our team, open our app, or visit our website, we want that feeling to be first and foremost.
Happy Sunday (or whatever day you read this).
Dave 🙂
Because of the crazy times we are living in (thanks, COVID-19), the entire ElectionBuddy team is now working remotely! This means we are still hard at work to ensure that there is zen in your elections. We also get to benefit from some cuddly new team members! Meet Jasper, our election observer (along with a few other, less cute-and-cuddly team members).
With all jokes aside, we hope you stay safe!
Tips and Tricks for Working Remotely
With this change in our lives, it seemed likely that if our team is now working remotely, a lot of our administrators might be too! So, we've compiled some of our best tips and tricks for working remotely!
If you have a webcam with a microphone that picks up noise and makes it hard for other to hear you, get yourself a headset with a microphone instead for your online conversations.
If you can, create a seperate workspace at home, instead of sitting on the couch with your laptop. This will help you delineate when it is time to work and when it is time to relax.
Get dressed! I'm not saying you have to put on your best outfit but the act of dressing will help your brain register that it is time to work. Don't skip your usual morning routine.
If you're going to be away from your computer, make sure you let your coworkers know. Since you're not in the office and can't see what each other is up to at all times you might not realize that your coworker is off eating lunch unless they tell you.
Pets are wonderful creatures and it may be exciting to have them around when you are working from home, but they can be distracting. If your furbaby won't let you get anything done, try doing your work in a room with a door that closes so you can squester yourself away from their unconditional love and attention. With that said, being able to sit down and destress with your cat/dog during your lunch break is a huge bonus!
Creating a good remote environment for yourself is the key to success! Everyone works and thinks differently so make sure your remote environment is set up in the best way to help benefit you.
For some more tips and tricks check out some of the below articles:
"Working Remotely: Tips from 100+ Remote Workers & Leaders" from HelpScout.
"13 Tips and Tricks for Working Remotely and Loving It" from skillcrush.
Working From Home Tips From Our Experienced Remote Employees" from Stack Overflow.
And as always, if you need any help setting up your elections you can reach us at support@electionbuddy.com!
Extra! Extra! Read all about it! Features! Functionality! Framework!
---
Fresh Features, Functionality, and Framework
---
Feature — Reporting Groups
ElectionBuddy has recently released a new feature called "Reporting Groups"! I think the reporting groups is the most exciting of our new releases since it has been a huge labour of love from our entire team. This is a big feature and we have considered and crafted every nook and cranny of it. Many administrators have been waiting for this and we are so excited for you to see it! The feature allows you to get a breakdown of the results of your election by various demographics within your voter population. Some examples of what you can use reporting groups for might be location, age, gender, etc. For example, if you are a national-level union, you could set up reporting groups to get results by State and Local.
For each election, you can include up to three reporting groups. The breakdown of these reporting groups appears in the "Grouped Results" report. With these grouped results you can get a better idea of how members vote in each subgroup.
For more information on our reporting groups, check out our help article!
Functionality — Location
We recently released some new functionality that allows you to select the location of your organization! Once your organization's location is inputted, ElectionBuddy automatically selects the time zone that is related to your organization for your election. For example, if your organization is located in New York, NY, USA, ElectionBuddy will automatically select the Eastern time zone option.
By automatically pulling the time zone for your location we hope to give you one less thing to worry about when setting up your election.
For more information on how to update or add your organization's location, please check out our help article!
Functionality — Election Title
This update is tiny but we hope it has a major impact on how you manage your election setup! As see above, we are now including the title of your election on every page of the setup process. For our administrators who work on numerous elections at the same time, this functionality will hopefully help you better manage your ballots since you can consistently see the title of your election while you work on it. This means you will not have to head back to the "Details" page to see what election you are currently working on.
Functionality — Help
Our "Help" functionality has a makeover! With the new functionality (thanks HelpScout!) our Customer Success team is provided with more nuanced information. For example, we can see if a lot of administrators are encountering the same issue on the same page. This means we can go in and make small changes that will hopefully have a big impact on your setup experience!
In the future, we will make the setup process even smoother for you! "How?" you might ask? Currently the "Learn more" links open up in a new tab in your web browser but soon, we will be implementing a change that will open the help article in a sidebar alongside your election setup, meaning that you can get help right in ElectionBuddy when you need it most.
Functionality — Translations
Last summer, ElectionBuddy started offering French and Portuguese on the ballot as alternative language options for voters when voting. Now, we have added translations for Italian and Croatian to ElectionBuddy. These translations aim to help you give your voters a better experience no matter where they are located.
Here is a guide to running your election in a language other than English. We hope with our translations we make ElectionBuddy more accessible to voters everywhere.
ElectionBuddy has taken a collaborative approach to add language translations to the ballot by getting help from our community, so please feel free to reach out to us if you are interested in adding a language translation that we currently do not offer.
Framework — Ruby on Rails 6.0
In order to keep ElectionBuddy in tip-top shape for our administrators, we also need to make some changes to our infrastructure. Recently our development team has upgraded our Ruby on Rails 5.2 to Ruby on Rails 6.0!
By updating to the newer version we benefit from performance improvements as well as any new features Ruby might have released. This means our developers can keep effectively working on cool things for you, our administrators!
If you speak Ruby, you can check out the release notes for Ruby 6.0 here.
Soon…
On top of the above changes, we are currently working on making the onsite meeting voting experience for administrators and voters. You may have already noticed the start of the changes we are making on the "Details" page with the new "Remote or Onsite Voting" setting. We will be sure to update you on our onsite voting functionality once it has been released!
It's been a busy time here at ElectionBuddy and all these changes couldn't happen if it weren't for YOU, our customers! Please feel free to email us with any suggestions or questions you might have. You can contact us at support@electionbuddy.com!
Welcome to our 2017 ElectionBuddy recap! This year has been an extremely productive (and busy!) year for all of us on the team. With the goal of always trying to improve the customer experience in mind, we have made some major changes to ElectionBuddy that we hope have made running your online elections easier.
Here is a rundown of the three top areas of improvement for ElectionBuddy during the 2017 year.
2017 ElectionBuddy Recap: Three Major Areas of Improvement that We've Made
1. The release of ElectionBuddy, V2
If you were an ElectionBuddy customer before March 28th of this year, you probably noticed that ElectionBuddy received a massive overhaul. In fact, we released an entirely new version!
Larissa, one of our developers, added her impeccable good taste and logic to what was (visually) a somewhat dated system. Because we know that you require a professional-looking ballot, and clean, accurate results, she upgraded these areas substantially. So, now you look like an election pro to your members and your superiors, and you don't have to do anything extra to get that. That's just how ElectionBuddy is, right out of the box.
But, we did not stop at just visual improvements. The functionality and features of ElectionBuddy have expanded dramatically, and we continue to expand on these improvements constantly. Instead of heading somewhere tropical for Christmas, Larissa will be squirreled up in ElectionBuddy HQ, continuing to work on some highly-requested features.
(And yes, Larissa had the option of taking a Christmas break! She wants the quiet time to crack down on getting some features out the door. Her commitment is inspiring!)
2. The introduction of our "Verification Code" to pass election certification requirements from the United States Department of Labour
So, we were audited by the Department of Labour as the result of an election challenge initiated by an American-based union. The audit was around our methodology for election security and integrity.
(For those of you who are not familiar with unions, they have heavy legislative requirements, and they all answer to a governmental department).
Although being audited is not usually viewed as a good thing, we saw this as an opportunity. If ElectionBuddy meets the DOL's aggressive requirements, we would have the ultimate in third-party verification of our process. Even if you don't need the rigorous discipline that the DOL imposes on unions, you still benefit from using an election software that offers it as a standard.
While we passed with flying colors…we wanted to improve our verification process and ensure that voters could more easily verify their own vote independently after the election was complete.
Introducing: the new verification code. The verification code is a hash that allows the voter to confirm that their ballot is still submitted with the same choices that they originally made, so they know that no one has tampered with their vote. For more information about the verification code, see our help article on it!
Because of our introduction of the verification code, we further exceed the DOL's election certification requirements around independence and observerability, without having to contact our support team to do so.
3. Tally types have received several major upgrades
Yes, you read that correctly: there were multiple upgrades to our tally types. Because the tally type is so fundamental to an election, it makes the last spot on our 2017 ElectionBuddy recap list.
First, we've created two new tally types in ElectionBuddy — both of which have their own blog post. We've always offered plurality- (first past the post), preferential- (ranked), and referendum-type tallies. But, these three are nowhere near sufficient for the broad diversity of elections that are run. So, we've added cumulative and STV to the list.
The other major upgrade was with regards to the variety of tally types that you could use on a ballot. Previously, your ballot could only comprise of one tally type. So, if you needed to elect board members and pass a bylaw amendment, for example, you needed to run two separate elections. That meant you were able to get less value out of running an ElectionBuddy election.
But, we recognized that, and redesigned the ballot so that way tally types are independent for each ballot question. We also decided against charging more for the ability to do so — the ability to use multiple tally types on the same ballot is a basic standard for us now. So, that means you can have a simple process (compared to running two elections simultaneously) and save money (because you only have to pay once).
Want to know a little secret? We are developing a new tally type as you read this. Expect it by May 2018!
2017 ElectionBuddy Recap: Other Improvements
We don't have room in this 2017 ElectionBuddy Recap to review ALL of the improvements that we've made. There's just too many!
So, instead, we'll review the rest in a quick list. Some other improvements we've made include:
Better management of your voters' email bounce-backs so you can better manage your voter turnout.
Allowing you to provide paper ballots for your non-technical voters.
Instead of making ElectionBuddy create your voters' credentials, you can create them for your voters yourself.
Putting your organization's logo on your ballot.
Giving you the option of using your organization's name as the "From" name on your email notices, instead of "ElectionBuddy Elections".
Two entirely new notice types: SMS notices and Postal notices. You reach more of your voters by using a variety of communication methods.
Downloadable results, making presenting the results of your election quick and easy.
You can make voters' voting choices visible to yourself and others (i.e. non-anonymous voting).
SSL security is standard on all ballots, so you can trust that your election won't be compromised.
We now offer three levels of election services, meaning you can get the help you need to make your election a success.
MOST OF THE IMPROVEMENTS WE MAKE COME FROM OUR CUSTOMERS. THANK YOU GUYS FOR HELPING MAKE 2017 ELECTIONBUDDY'S MOST SUCCESSFUL YEAR YET!
Want to know where ElectionBuddy is headed in the new year? Stick with us to find out!
Wishing you all a safe, happy holiday season, from myself and the ElectionBuddy team.
To wish you the best for 2015, we have DRAMATICALLY updated the ElectionBuddy experience. Our goals were to keep it simple, to add some requested functionality, to give you more control over the voter and voting process and to make ElectionBuddy look better for you and your voters. The newness includes
Better access to the most important functions from the redesigned election list screen and see more stats and information
Reduced scrolling – we update our account settings screen to group items
Better explanations and help – along with an overall refresh to the look and feel of election setup,
the ability to use different election types for more than just positions and candidates – ask your own questions (directly from one of our users)
an update of the announcement functionality
More control over the voting process – you can even add button text
A redesign of the ballot to allow for MULTI LANGUAGES (did you catch the hint in our previous post?) – you control all the instructions and the buttons too!
the capability to add a path to get your voters back to your own website after they vote you can fully customize the confirmation screen.
Please let us know what you think!
In future posts, we will be going through some of the changes, but for now… Happy New Year!
I used to enjoy watching show Extreme Home Makeover Home Edition. And I also really like the makeover we have just released on electionbuddy.com. We have revamped our home website, with a simpler, cleaner design and tried to showcase what you our million plus voters and administrators love about ElectionBuddy. Feel free to give us feedback on what you think!
To celebrate the new website and also based on your feedback, we have decided to make even more features free. You can now do printed ballots and custom ballots across all our plans including our FREE plan. We hope you enjoy.
And also check out our new features:
Candidate Shuffle (random presentation) – many of you asked for this, so here you go!
Pre-planning for new voters mid election – we are laser focused on ensuring that you can offer a democratic anonymous election, but we also know that you want to ensure that new members can join midstream, or sometimes you just don't have an email address when you are ready to go. So we added the capability to add keys and convert later, with a full audit trail of the changes. To try it out – create a test election
Sharing voter keys with those stubborn email addresses – sometimes you just need to share a voter key with person who has email address that can't be reached. We made it super simple to convert emails to keys, so you can share the key via phone, in person or even deliver it via oxcart so you reach even more voters!
Stay tuned for some other new features coming shortly, and if you have feedback as to what you want to see, let me know, just reply to this post!
I am really pleased to announce a bunch of new ElectionBuddy features coinciding with the new school year and coincidentally our new fiscal year (I threw in an accounting term to make our accountants happy, we want to keep them onside as they help us make sure that ElectionBuddy elections are auditable and verifiable, but I digress…). The new features include
We have updated the payment processing to have fewer issues and better messaging. We were also running into some issues with certain credit card companies, and we think the new process will stop these issues
We updated our review screen, to make it shorter, simpler yet do more to make sure that your election is exactly what you need it to be, and to make sure that you test it (so that you understand what your voters will do when they vote)
And last year, we added the ability to have ballot identifiers. So if you have a membership list, student list with student IDs, or homeowners list with identification numbers, you can use those to track who has voted, while still ensure that HOW voters voted remains anonymous. And updated the way you can add email lists to make it faster to setup your election. We even made it easier to duplicate old election voting lists and old ballots, and ensured that you can quickly view the settings on any election (so that you can decide which election to duplicate).
We hope that these changes better serve your association election of your board or executive, student council election, promo king and queen election, condominium board election or home owners association election, or any other vote that you do.
And as always, if you have some feature ideas, please feel free to pass them on, we are always looking to make ElectionBuddy better for you!