One-factor, two-factor, red-factor, blue-factor.
---
When voting it is reasonable to worry about the security of someone's vote. How can we ensure that not just anyone uses a voter's access key from an email, postcard, or text message?
Thankfully there is a way to ensure that other voters do not use someone else's access key to cast a vote! A way to create even tighter security around someone's access key is to enable two-factor authentication; however, what is two-factor authentication?
Two-factor authentication requires that a person goes through two verification processes to access the application, the purchase, etc.. For example, when you unlock an iPhone device it still requires a password before purchasing from the app store. For more information check out this article: Two-Factor Authentication (2FA).
Two-Factor Authenication in ElectionBuddy
In ElectionBuddy two-factor authentication is a security process that requires the voters to verify who they are before accessing the ballot. Two-factor authentication allows the admin to ask the voter to enter information that only the voter would have access to. For example, if they have an ID number in an organization, they could use the ID number that is specific to that voter. This can be used as the password since, presumably, only that voter would know their ID number.
Another method of two-factor authentication is to use the SMS number as a way of ensuring the correct person is accessing the ballot. How this works is once the ballot is access the voter is sent a code to their mobile device. Once they receive the code they can enter it into ElectionBuddy to access their ballot.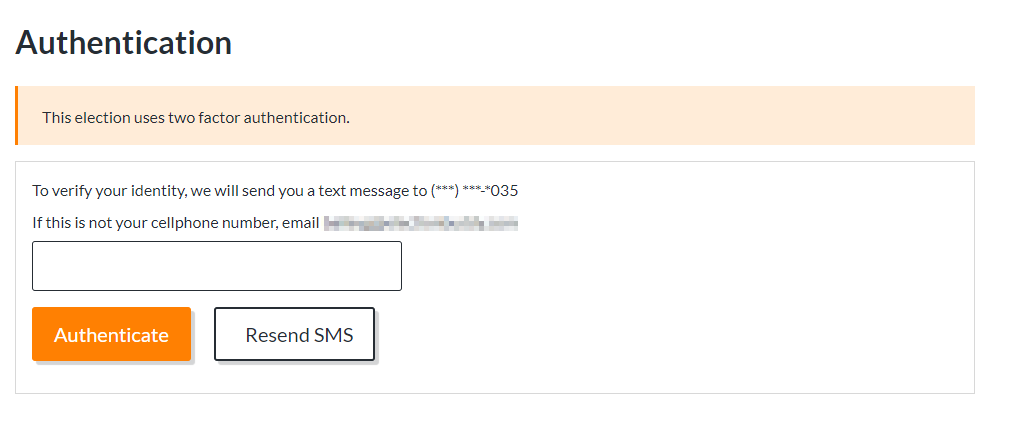 Including two-factor authentication allows for there to be greater security surrounding each voter's vote. Security of a voter's vote is important because it ensures who accesses the ballot is the intended voter/ This is specifically handy in combating email forwarding where someone else was able to gain access to the ballot through an unintended forwarded email. Or, even a postcard that was delivered to a non-updated address on file.
For more information on two-factor authentication check out our help article! If you have any questions regarding using this feature, please feel free to reach out to us at support@electionbuddy.com.
What new technology does is create new opportunities to do a job that customers want done. — Tim O'Reilly
---
A QR (Quick Response) code is a two-dimensional barcode that can hold a lot more information when compared to your standard barcode. It was first created in 1994 by the automotive industry in Japan. This code is read by a cell phone and then directs the user to the website, information, etc., that is associated with the QR code.
Some common places you might see QR Codes are:
On bottled beverages. When I mention this I am specifically thinking of the "Share a Coke and a Song" campaign.
Television Ads — check out this one from LG.
On billboards.
In shop windows. You might have seen something like this during your last trip through a shopping mall.
Friend codes on online apps. QR codes recently have been a quick and easy way to add friends on phone apps; for example, Snapchat.
During the recent Covid-19 pandemic, we have seen a great rise on resturant menu's being available via a QR code on your dining table.
ElectionBuddy and QR Codes
ElectionBuddy even makes use of the technology that is the QR code! When using postal notices or printed notices you have the option to use the QR code that will be associated with your voter's unique ballot link. This is a quick way for your voters to reach the ballot without having to type in their ballot link or their access key. QR codes are an easy and accessible way for voters to access the ballot if they have a smartphone.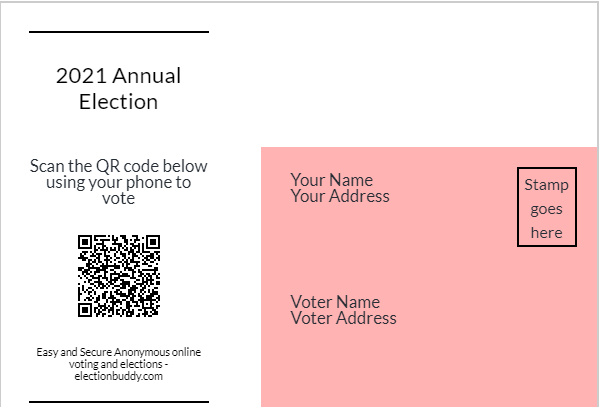 The process to access the ballot via a QR code is as follows:
Voter receives their postcard with the unique QR code notifying them of the vote.
The voter takes out their smartphone and scans the QR code.
The QR code takes the voter to their ballot and they can cast their vote.
Technology as simple as the QR code can help to enhance the voting experience for voters and add simplicity to accessing the ballot. If you have any questions about using this feature, please don't hesitate to reach out to us at support@electionbuddy.com!
Based upon feedback from quite a few election administrators, we have introduced a new piece of functionality. It is meant to help an organization analyze their voter list based on voting statuses. This information is now available in a download!
Voter List Filters
Previously, if an election administrator wanted to take a look at their population of voters who haven't voted, they would have to do this directly in ElectionBuddy by using the filters on their voter list. The filters sit above the voter list in your running election. Using the filters is simple: simply click and wait for the page to refresh. The time this takes depends on the size of your voter list, but should not take more than a few seconds.
While the filters are helpful for visualizing different aspects of your list in ElectionBuddy, there was no way to pull this data out from ElectionBuddy and view it in Excel, for example, to do an analysis on it. So, by popular request, we have introduced the ability to:
Visualize different groups of your voters in the voter list by using the filters to sort your voters, and then,
Download a list of whatever voter subset you have filtered out in ElectionBuddy.
How to Download Your Voter List
To download, simply select the "Status" and "Type" filters that give you your ideal report. Then, click on our new "Download" button.

The red box is highlighting some of the various filters available for a voter list. The actual content of your filters will vary based on the notice types you are using ("Type"). It will also vary based on the different statuses your voters have in the voter list ("Status").
You can use the two types of filters in tandem! Say, if you wanted to look specifically at your voters who received an email notice but have not voted. Or, you can search using one of the filters specifically, and then leaving the other on "All". For example, if you wanted to see all your "Voted" voters, regardless of what notice type they were sent.
So, Why Download?
Unsure of why you would want to download a subset of your voter list? How can you use this information to help your organization/the election? Here are a few of the most common reasons why administrators told us they wanted to see this functionality:
Voter turnout strategies: a lot of our large organizations have groups of individuals within the organization that come together with the election administrator to strategize how to reach out to more of their voters, and wanted to be able to have a list of voters who haven't voted to analyze and sort in Excel. (For some ideas on how to increase voter turnout, check out this article for research-backed strategies!)
Administrative purposes for the organization: filtering by "Undeliverable" voter notices helps an organization identify members whose contact information is out-of-date with the organization. They can then reach out to that voter to ask for updated contact information. Asking your voter to vote at this time can also help you turn this into a voter turnout strategy!
We work with any and all types of organizations that run elections. But, one type of organization in particular has very strict government-imposed legislation around their elections. Those would be the unions. The government department that regulates their legislation (in the United States) is the Department of Labour. We surpass the DOL's strict election integrity expectations with our vote verification ability via the "Vote Audit" report and the verification code.
While this most directly benefits unions who need to answer to the DOL, this is something that all organizations can get behind! Your election may not necessarily need to align with the rigorous legislature of the DOL, but you can feel good about the fact that it does anyway. In a democratic institution, observability and transparency around the voting process is always a benefit to you and your voters.
The Redesigned "Vote Audit" Report and the Verification Code
Previously, election administrators used the "Vote Audit" report. Voters could never see it; the voters have only ever been able to view the "Results" and the "Graphed Results" reports. This is now no longer the case.
The "Vote Audit" has been redesigned to be somewhat useless for administrators, and instead is now extremely useful for voters. Also, voters can now view this report while viewing the results.
What has changed?
As mentioned, the "Vote Audit" report contained information about the IP/time stamp for each voter's ballot submission. Instead of listing the voter's ballot ID and the Voter ID (a sequential number that we internally assign to each voter after they vote), the "Vote Audit" now lists something called a "Verification Code" instead:
As an election administrator, you will find this page to be unhelpful, as you do not get to know the verification codes for your voters. But, each voter will know their own verification code.
The "Voters" report now contains the information about a voter's IP and time stamp. You will need to download the report and open it in Excel to view this information. To download the report, open the "Voters" tab and click the "Download" button.
What is a verification code?
A verification code is a fifteen-character hash. The combination of a voters' choices on the ballot and their Voter ID makes up the hash.
A hash: the result of a hash algorithm that maps input data to another value.
To put it simply, the hash algorithm takes the input of the voter's ballot choices and Voter ID. Then, it translates that information into a series of numbers and letters, like the example in the picture above.
A good hash algorithm, like the one we use, does two other important things:
It is impossible to work backwards. This means that the algorithm we use to calculate the hashes doesn't have to be a secret. You cannot turn a verification code back into the information about the voter's ballot choices and Voter ID.
There is an extremely low chance of two voters ever being assigned the same verification code (known as collision). This would only be problematic if two voters in the same election were assigned the same verification code. The probability of it occurring with the algorithm we use is less than 1/1 000 000 000.
The verification code is dynamic. Each time someone views the "Vote Audit" page, ElectionBuddy recalculates the code. This means that the verification code, as it sits in the "Vote Audit", is the most current record. The hash will never change if a voter's voting choices haven't changed. So, if you're playing by the rules, a voter should always be able to find their verification code in the report.
When does the voter receive their verification code?
Verification codes are provided to voters on the "Confirmation" screen when they have finished submitting their ballot. Voters can also receive a confirmation email containing their code after they vote.
Run a transparent, observable election with ElectionBuddy
Any election can be set up to allow for a voter to verify their own votes. Check out our support article on how to build one, and surpass legislative expectations like a pro!
Bylaws are a fundamental part of the operating process for any organization. They tell an organization what they should and should not do, and guide the people running the organization when things are unclear or uncertain. But, your organization changes, and that means your bylaws may need a change as well. A bylaw amendment is how an organization changes their bylaws. And, your bylaws often contain details on how to make the amendments!
Step 1: Review your bylaws to find guidance on how to run a bylaw amendment.
The first thing to do when looking to amend a bylaw is to get a clear picture of what you need to do to pass the amendment. Turn to your bylaws! They will contain all of that important information. For example, you'll need the complete text of the bylaw you're trying to amend, so you have to start there! Additionally, things like knowing how many votes are required to pass your bylaw (this is called a quorum) are important.
Step 2: Get legal help!
The language used in bylaws is extremely legal and technical. Attorneys can assist you with understanding the language you're trying to amend. Additionally, they can help with coming up with new language for the bylaw. They can also make sure that the changes you're proposing aren't going to violate any provincial/state/federal laws. By consulting a third party, you are protecting yourself and your organization if something goes wrong.
Step 3: Pass your bylaw amendment.
So, you've done all that work to draft your bylaw amendment, and have it approved by a legal third party. But, the battle has only just started. Passing the amendment with enough numbers to satisfy your organization's quorum will be the real challenge.
Now, this is where we come in. ElectionBuddy can help you pass your bylaw amendment!
The first step to getting your bylaw amendment passed is to distribute it to your membership. They need to be able to read the amendment in order to vote on it. With our new rich text editor on the ballot, you can present your bylaw amendment cleanly and accurately to your voters.
Both of these examples clearly display the amended text to the bylaw, ensuring that your voters have no confusion on what the old bylaw text was, and what the new text that they're voting on says.
Create beautiful ballots that your voters can read.
Try ElectionBuddy's rich text editor for your bylaw amendments, and all other types of votes, today!
Paper Ballots + an Online Voting Platform = Inclusivity for All!
There is a fundamental issue with offering an exclusively electronic voting platform. Not all people are adept at using electronics. In fact, some people don't even have email addresses! We have always had workarounds (an indirect way of accomplishing a task) for these cases. But, we have now eliminated the need for a workaround. Why print a copy of the webpage, or make a paper ballot yourself? Simply get ElectionBuddy to handle it for you. ElectionBuddy now creates, and can even distribute, paper ballots. Reach all of your voters!
A Quick ElectionBuddy Paper Ballot Rundown
PAPER BALLOTS ACCOMPANY NOTICES:
Remember ElectionBuddy's different notice types? The physical ballots are an accompaniment to the two physical notice forms we offer — printed notices and postal notices. The ballots that you distribute are "Printed", and accompany a Printed Notice. Similarly, the ballots that ElectionBuddy distributes for you are "Postal", and would include a Postal Notice. You set them up alongside the notices on the "Notice" stage of your election setup.
YOU CAN PRINT JUST ONE BALLOT FOR THE SINGLE VOTER ON YOUR LIST WITHOUT COMPUTER ACCESS:
It's so easy. You simply set up your election the way you like. Then, when your election is running, you select that voter and print their ballot from their "Actions" menu.
VOTE ONLINE OR VIA PAPER BALLOTS, BUT STILL ONLY VOTE ONCE:
Just like each electronic ballot, each paper ballot has unique access key for each voter. But, the access key for a specific voter is the same, no matter the ballot format. And, just like the electronic ballot, that access key is single-use. One ballot submission per access key. If a voter votes electronically, and then sends back a paper ballot, the paper ballot cannot be submitted. The opposite is equally true! So, an electronic vote cannot be cast when a paper ballot has been submitted for the voter.
SAVE YOURSELF SOME MONEY ON POSTAGE:
You mail the ballot to the voter. Then, the voter votes and mails their choices back. Don't pay to mail the entire ballot twice. Instead, set up your ballots using ElectionBuddy's "Include tear-off portion" feature. This way, your voters mail back just one piece of paper with all their choices. It makes return postage cheaper!
WE'VE CREATED DOCUMENTATION TO MAKE SETUP SIMPLE:
You have to know how to use the feature to enjoy it. So, we created help articles to get you through every step. We've even tested their helpfulness, and our testers told us they pass. Get step-by-step instructions at http://support.electionbuddy.com.
WE ARE HUNGRY FOR FEEDBACK:
Because the feature is brand-new and unlike anything else we've done before, we need your help. We created paper ballots for you, so your feedback is vital! If there are changes that need to be made, we need to know! Reach us at support@electionbuddy.com.
Undeliverable email notices are truly one of the world's greatest mysteries. "Why didn't my voter receive their email notice?" is the toughest question I get asked. It's a great question, but it is challenging to answer, because there are a lot of reasons why an email can seem to simply vanish into cyberspace.
We have introduced tools to try and assist our administrators with this throughout the years. But, we just released our most useful tool yet, and it would be a shame to not formally introduce it to you all. So, first we will take a look back at what features were in place before this new tool. Then, we will look at the brand-new tool that we just released. I hope you will be as excited about it as we are!
One of the first things that we did to try and make this issue easier for administrators to solve was giving them a clear indication of the voters that did not receive their email notice. This is the "Undeliverable" status, and you might see it in the voter list of your running election. It looks just like the image on the left.
Therefore, it became easier to identify which voters would not have received their notice.
Second Tool: the "Undeliverable History"
By now, you might be wondering, "Well, how do they know that the email was undeliverable?"
We know because ElectionBuddy received a _bounce-back message _for that voter. A bounce-back message is simply an automated email from an email server (like Gmail or Hotmail) that is sent to the original sender of the email, letting them know that the email was not received. Think of it like an ATM telling you that you cannot withdraw any more money for a specific reason. In that case, your card "bounced".
So, our second tool is the "Undeliverable History": this is where you can view the bounce-back message. To learn more about viewing a voter's Undeliverable History, take a look at our handy support document!
Third Tool: the Newly Improved "Undeliverable History"
If you've ever taken a look at a bounce-back message, then you may not be so sold on how helpful viewing the bounce-back message is. If you haven't, here's a little taste.
That's a lot of jargon to sort through, especially if you don't know what you're looking for. The red box in the image is the portion that would explain why the email bounced. Don't think you would have found it on your own? That's okay – now you don't have to!
ElectionBuddy will now do all the dirty work for you. It finds the _bounce code _and tells you what that code means. A bounce code is a series of numbers that correspond to a specific reason for why the email was bounced. For example, in the above message, the bounce code was 4.4.7. A 4.4.7 means that the attempts to send the message timed out.
So, that means no hunting through the email to try and find the code. It also means no Googling to try and figure out what that code stands for. However, for those who are curious and would like to learn more about bounces and what they mean, Wikipedia is a great place to start!
Use the Undeliverable History tools to become a rock star election administrator!
This feature truly has such potential to make you, as the election administrator, look like a rock star. If I were an election administrator, I would:
Reach out to voters who are showing as "Undeliverable" in my voter list before they realize they didn't receive their voter notice.

Not only does this make you look incredibly organized, it has impacts on your relationship with your members — there is a difference between being reached out to, and having to reach out, from the perspective of a voter.
Reaching out to a voter makes them think that you care! Voters who feel important to their organization are voters who vote, so you can increase your voter turnout by putting just a little bit of effort in.

Use this as an additional opportunity to update contact information for your members.

Updated contact information for your organization's members is important to have. You need it for next year's election!
Additionally, updated contact information means that you can continue to reach out to your members outside of the election in order to keep them engaged with the organization and make them more likely to vote next year.
Share with us how you use the Undeliverable History feature set to be a rock star election administrator!
One of our developers has completed their work on the highly-requested cumulative tally method. It is now ready for you to try out in your next election!
A Brief Explanation of Cumulative Voting
Cumulative voting is a method of voting in which voters receive a certain number of votes that they can cast in an election. Therefore, voters can disperse these votes as they see fit among the candidates.
Presently, how this works in ElectionBuddy is that the number of votes that voters have to disperse among candidates for a given ballot question is equal to the number of vacancies available for that position. However, you can adjust whether voters have to assign all of their votes, or if they can assign up to their total possible number of votes.
In California, it's the Law!
By law, all California-based corporations that are not publicly traded must conduct their elections using cumulative voting. However, publicly-traded corporations are legally allowed to amend their bylaws and opt out of this requirement! Learn more about this California electoral requirement.
So, hello, California-based organizations – ElectionBuddy is ready for you!
Did you know that you don't always have to upload a list of email addresses to send out ElectionBuddy ballots? You can also create custom ballots in Microsoft Word, an e-newsletter program, or your preferred email application through the use of manual voting keys.
The Setup Process
It's pretty simple actually. Just follow these three easy steps, and you should be good to go!
In Step 3: Notice Setup, select Create Notices Myself.
Enter the number of access keys you will need.
From the Admin area, download your Access Keys file.
If you've done this correctly, you should now have a .csv file with the correct number of voting keys. Merge the keys into your own software, and tell your voters to enter their key at https://secure.electionbuddy.com/ballot.
Distributing ballots yourself is also useful for walk-in voters. It's better to over-compensate and grab a few extra keys than you think you will need for last minute additions.
Give this feature a shot if you prefer to use your own software to send out the ballots!
If your election is not having the turnout you expected, it could be for a variety of reasons. If you are letting ElectionBuddy email the ballots, maybe the election start time was not the opportune time, and people first brushed off the voting link email. There are all sorts of reasons why people have yet to cast a ballot. Luckily, we offer a way of reaching out to people who have yet to vote.
You can send and Reminder. By using this feature, you can reach out to everyone who hasn't voted with a custom message. For example, you might want to let everyone know that the polls are closing in 24 hours, so this is a last-minute reminder to cast your ballot before the election is closed. The step by step process is outlined here on Sending an Email Reminder to Your Entire Voter List
Well, I certainly hope this feature helps you increase your voter turnout and gives everyone a chance to cast a ballot. Happy voting everyone!
Not all of our Feature Focuses have to be about items you can implement to aid your election. This month I want to highlight something that's done on our end to increase your voter turnout.
To prevent email ballots from being marked as spam in a voter's inbox, we verify using DomainKeys and the Sender Policy Framework. While a lot of this is dependent on the recipient's spam filter, the methods we undertake ensures you reach all of your voters, thus maximizing the opportunity for a successful voter turnout.
DomainKeys Identified Mail
DKIM is a method of connecting a domain name to an email. This allows the sender to take responsibility for a message in away that can be validated by a recipient.
The primary advantage of this system for e-mail recipients is it allows the signing domain to reliably identify a stream of legitimate email, thereby allowing domain-based blacklists and whitelists to be more effective. This is also likely to make some kinds of phishing attacks easier to detect.
Lots of tech-gobble and bits later, you realize it's just a secure, verifiable mail man: someone you know that's safe; someone you know that isn't going to stuff your mail with anthrax. To learn more about DomainKeys Identified Mail, please read this article.
Sender policy Framework
Sender Policy Framework, or SPF for short, is an email validation system put in place to prevent email spam. It verifies the sender's IP addresses and it also allows the admin to specify which hosts are allowed to send mail from. ElectionBuddy uses Google as the host
To read up on Sender Policy Framework, please read this Wikipedia entry.
256-Bit Encryption
As I'm sure you've read on our site (it's right on our homepage!), we use 256-bit encryption throughout the site. This is the same security that major banks rely on to keep your data safe in transit. While this has nothing to do with the email ballot, what good is having a verifiable way of sending an email with a link, if the site they are taken to isn't secure itself? The more you know…
Alright, enough of the geek talk… let's start running an election… and extremely secure one at that!
One of the features that make ElectionBuddy unique over other election software, is that you can customize who gets the view of the results – in real time and once the election is complete.
As an election admin, if you don't want to be able to see the results until after the election is done – not a problem. The same goes for voters. You can also make it so that voters won't be able to see the results at all, should you want that.
In Step 1: Election Details, you will be presented with the option to set how the results are displayed. These are the following selections that are made available:
Election Administrator Results Viewability
Anytime after voting starts
Only after voting ends
Voter Results Viewability
Anytime after voting starts
Only after voting ends
No access allowed
The main reason why you might want to revoke mid-election results access from the administrator is to keep your election completely secret until the polls close. It reduces the chance of them influencing the results by swaying voters. And while you can't edit your choice once the election has begun, you can choose to show or hide the election results link to voters from your admin area, as long as you don't select "Don't allow voters or election admins to see the results until the election ends".
For more information on keeping results private or public, click here.
We've already looked Plurality Voting, Preferential Voting, as well as how to organize a Referendum in ElectionBuddy. Approval voting is another election type that is supported in ElectionBuddy, and that's what we'll hone in on this Feature Focus.
Approval voting is an election method that lets voters vote for (or approve of) as many of the candidates as they wish. The winners is the candidate receiving the most votes. More information can be found at the Wikipedia article on approval voting, but it's pretty self-explanatory.
Approval voting is beneficial for re-electing a group of people. If your organization uses a "If ain't broke, don't fix it", approval voting might be the way to go for keeping, for example a group of board members.
ElectionBuddy offers a variety of election types that will suit your organization. Today we're taking a look at Preferential Voting.
Preferential Voting (also known as instant runoff voting) is a type of election where voters rank the candidates in order of preference, with "1" being the highest (most preferred) ranking. The first preference on each ballot counts as a vote for that particular candidate, and the votes are tallied. If no candidate receives a majority (greater than 50% of the total valid ballots), the candidate with the fewest number of votes is eliminated and the ballots for that candidate are redistributed to each ballot's second preference. The process continues until a majority is reached by one of the candidates.
The Wikipedia article on Instant Runoff Voting is a good reference.
To be considered a valid ballot, the submitted ballot must satisfy the following conditions:
At least one candidate must be ranked (i.e. a selection other than "no preference" made) for each position. If the voter has selected "no preference" for all candidates for a position, the ballot may still count as valid for any other positions in the election.
No two candidates can have the same ranking, or the ballot is invalid (for that particular position only).
Any candidate can be given any ranking, as it is the relative ranking that is counted. For example, in an election for a position with five (5) candidates, a valid ballot may be ranked "no preference/no preference/4th/5th/3rd". In this case, the last candidate will be first choice for this voter (since "3rd" is the highest ranking marked on the ballot), followed by the third candidate and then the 4th candidate.